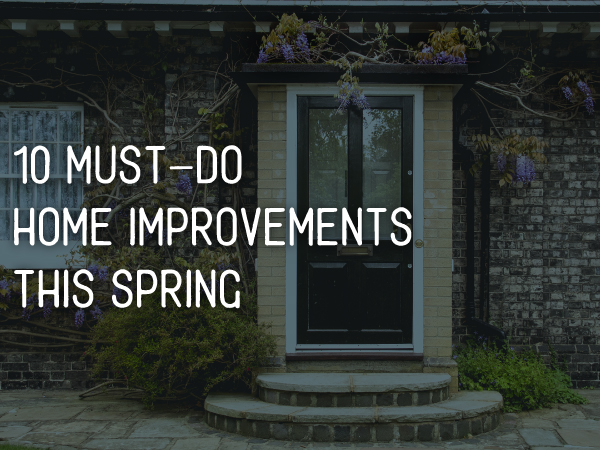 Have you observed how trees and bushes start to grow new leaves and flowers again? Spring is starting to begin. It's sure nice to have longer days and warmer weather following the very cold winter. The sunshine we finally get to enjoy is amazing yet it also highlights those unsightly cracked sidewalks, wilted plants on the flower beds and those gutters filled with leaves.
So, now is the best time to do some home improvement. Here are some ideas you can do this spring so you can walk gleefully into the light:
Take a Look at Roof Shingles
Your roof shingles may have been damaged or lost during winter. You'll never know for sure what the situation is unless you take a look at it. Your shingles might have buckled or cracked. Other granules may be missing or have become loose. This is best attended now. In case your roof has been around for many years, it's high time to think about replacing it.
Repair Exposed Woods
Using a screwdriver, probe exposed woods to prevent it from getting damaged come winter and spring rains. Inspect wood trims around your windows and doors for any termites, fungus, carpenter ants, and bees, as well as rots.
Survey Those Gutters
If your gutters are not in good shape, you're in for a whole lot of problems. The roof will get damaged and water will begin running down the house. The foundation of your house will be compromised if large amounts of water seep into it. A home improvement mechanism to address these issues is to ensure that the downspouts are away from the foundation. Likewise, they should not have any debris blocking them.
Make Use of Soil Compaction Techniques
When soil particles are pressed together, there is a reduction of pore space between them resulting in soil compaction. Using heavily compacted soil means eliminating water infiltration. The area next to your foundation could use some of this. Rains during spring can cause yard flooding, which sometimes results in foundation flooding. We do not want this to happen since it only means damage to the very core of the home. Another harmful effect is the possibility of water pooling that serves as a breeding ground for insects. This is especially detrimental to the health of your family.
Cleanup the Chimney
The chimney is possibly one of the most abused parts of the home during winter. So, another home improvement must-do this springtime is to get the chimney nice and working again. Combustible particle creosote builds up with all that exhaust going up there. This can cause a fire that can damage not only the chimney itself but also the roof or upper floors of your house. A professional is best qualified to do this task.
Check Those Concrete Areas
Take time to look at your concrete for possible cracks. No matter how small it may be, it can cause water infiltration. Water damage is not exactly good for your home as it can also potentially cause a problem to its foundation. Also, check if the concrete has some sort of movement. As a home improvement method, homeowners should seal any cracks with silicone caulk or fillers. It is also best to do a power wash and then followed by sealing of the concrete.
Say Goodbye to the Firewood
Since winter is over, there is no more need for the firewood to be nearby. Move that firewood but you need to do it properly. Stacking them just enough to let some air between them would allow them to dry nicely. The rows should be at least six inches apart.
Inspect the Faucets Outside
Winter may have done some damage to your hose faucets. Just like the other parts of the house, you'll never know for sure until you try it out. Thus, try to turn it on and put a finger over the opening. If there's stoppage on the water flow, chances are the pipes are not working and need to be restored. This particular home improvement is fairly easy to accomplish.
Maintenance of Your AC Unit
Your cooling and heating unit requires regular maintenance in order to function efficiently and effectively. This inquires looking into the coils, filters, and fins of the unit. Coils have to be cleaned and filters have to be changed. Doing otherwise could be detrimental to its performance, which translates to increase in energy usage.
Test Power Equipment
A home improvement is not complete without cleaning up your space. One dependable tool to make this happen is the ever-reliable lawn equipment, either battery- or gas-operated. These power equipment should be ready for summer use. If your equipment is clean and sharp, it will make your work easier.