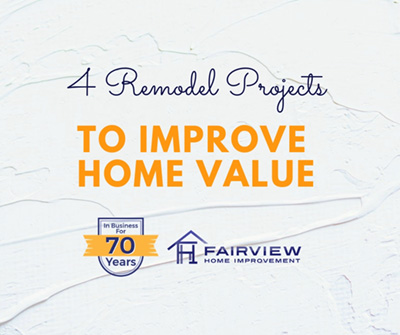 2018 is turning out to be the year of bold remodeling decisions. Most homeowners have realized the value of giving their homes makeovers, not only as a way of making them cozier but also to make them more attractive to buyers. While remodeling is great, you have to accept that not all costs can be recouped – for instance, the hefty cost of a built-in aquarium. If your focus is on increasing value, then these projects will be worth your while.
Vinyl Siding
Is the exterior of your house looking worn down after years of long Ohio winters? If so, then vinyl siding is a great option for an investment in your property. Not only will your home gain curb appeal, you will also be able to get a return on your investment of about 77%. Vinyl siding is also more than just a cosmetic upgrade since it protects against the weather like wind, rain, and snow, as well as providing additional insulation for added energy efficiency.
Upgrading the Entry Door
First impressions are everything and so a shabby door is not the first thing you want your visitors to see. If your entry door has seen better days, it could be time to invest in a steel or fiberglass door that will not only visually impress those who come by, but also give you a return on your investment of as much as 90%. Steel and fiberglass also assure a higher ROI than wood doors and give you more peace of mind for security.
Window Replacement
Today's double and triple-pane windows are a far cry from the older double-hung type and if you still have the old version, you are overdue for an upgrade. Getting the windows in your home replaced provides a quick upgrade to your home and provide a return on investment of around 73%. Windows will either invite a potential buyer or turn them away and not just for aesthetics. New technology makes windows energy-efficient, helping you save on heating and cooling costs for your home.
Roof Replacement
When it comes to ultimate value addition to your home, roof replacement is top on the list. Naturally, the roof is usually the first place the appraiser looks when you want to sell. Even better is the fact that you will get a 69% return of the cost of replacing that old roof, not forgetting that the new one comes with a 50-year warranty. The reason why the roof is such a fuss-point for buyers is that lenders will not give money to buy a home whose roof is in a questionable state. If you are thinking of selling, you will have to get rid of that damaged old roof.
Before starting a remodel project, ask yourself if it adds any value to your home. If your intention is to mark your property up for sale, then it's only wise to invest in projects that will return that cost. Fairview Home Improvement will be happy to help you decide on options for your next remodel project and make sure you are making a wise investment for your home.