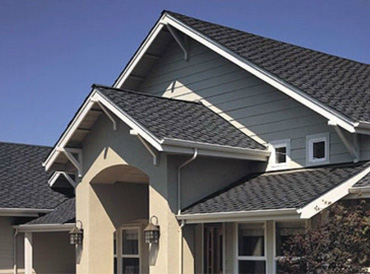 Fairview Home Improvement provides roofing services for Cleveland, Ohio area homes. Our energy efficient roofing options are sure to add value to your home, and protect it from the elements so that your house looks great for years to come. Some of our roofing options are listed below but feel free to contact us for more information about our roofing products. You can also visit our roofing project gallery to see some examples of roofing projects we have completed in the Northeast Ohio area.
CertainTeed
Add it all up and what you get is the opportunity to offer a lot of additional value for the money, and today that means more than ever.
Traditional color palette
Lifetime limited warranty
10-year SureStart protection includes materials and labor costs
10-year algae resistance
GAF Roofing
GAF's Timberline series shingles are the #1-selling architectural shingles in North America--your safest choice in roofing for your Cleveland area home. GAF is the name homeowners have trusted since 1886. Timberline shingles feature diamond cut granules, a multifaceted design and light-reflective construction that adds dimension and depth. UV Blocker granules protect against sunlight, improving durability and extending the life of shingles. Color Lock Ceramic Firing granules maintain the true color of the shingle longer. Dura Grip adhesive locks shingles in place on the roof, gripping tight in even strong gale force winds.
Most people think of a new roof as just banging up some shingles. But savvy homeowners know better! Today, effective roofing relies on advanced material technology and an integrated systems approach to protect your biggest asset--your home.
Many other brands and styles of roofing are available. Please visit our showroom!
IKO
For Cleveland area homeowners who want extra durability and protection, select IKO's Cambridge premium architectural shingles. The largest in its class, Cambridge shingles are distinguished by a dimentional shake-like design and come in a palette of rich, earthy hues.