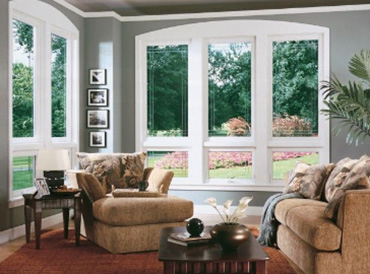 Fairview Home Improvement offers replacement window products from multiple distributors so that you can find the best solution for your Cleveland or Northeast Ohio area home. See our options and some pricing information for replacement windows from a variety of manufacturers.
Polaris
According to the U.S. Department of Energy, windows could account for 10 to 25% of a home's energy bill. Using ENERGY STAR® qualified windows, manufactured with Low-E glass and argon gas, to replace your single pane clear glass windows will reduce energy consumption.
MORE GLASS OPTIONS
Krypton fill
Bronze or Gray tint
Heat Mirror™ Low-E film fixed between glass panes
SC75 argon fills both air spaces
SC75 S argon fills both air spaces
+ Low-E glass coating
ENERGY EFFICIENT GLASS
EnergySMART® glass is standard in every Polaris® window. These insulated glass (IG) units are panes of glass sealed onto the Intercept® U-shaped steel spacer. Together, the spacer and sealant block temperature transfer and reduce condensation. We also offer many high-performance energy SMART® upgrades. Low-E coating reduces ultra violet light damage and heat gain. Triple pane IG units offer greater insulation and have sound deadening properties. Argon or krypton gas fill between panes further reduces temperature transfer. Upgrades are ENERGY STAR qualified. Ask for a brochure.
LIFETIME PEACE OF MIND
Comfort, energy efficiency, ease of operation and ownership are built into every Polaris window. Tough Polaris extrusions are Ultra-Welded at every frame and sash joint to create seamless and strong windows. Vinyl itself is not a thermal conductor. These and many more features are standard. Hardware operates effortlessly and is designed with style and strength. Our vinyl formulation maintains its color. Your new vinyl windows will retain their weather tight barrier and pristine appearance for a lifetime.
Alside Mezzo
It's the ultimate collaboration. Elegant, sleek style mixed with take-charge strength and energy efficiency. The aesthetics are everything you want in a window and the performance power is cutting-edge. Strong, durable and weathertight, with custom beauty, easy upkeep and excellent value. Mezzo Windows are made for you.
Jeld-Wen
There are luxuries in life that aren't tied to money. At Jeld-Wen, we understand this idea which is why we craft reliable Tradition Plus wood windows and patio doors. Each one is designed to enhance homes with exceptional beauty and energy efficiency at a great value. These windows and patio doors also provide dependable performance time and time again. They're simply worry-free, which, of course, is the best luxury of all.
Seaway
All Seaway windows are made-to-order so you are assured that your window will be a custom fit for your Cleveland area home. Choosing an Energy Star labeled window is your assuance of energy efficiency and low-cost operation for years to come. This cost advantage comes at no sacrifice of stylishness or durability.
Double Paned with Clear Glass
Double Paned with Low E Glass & Argon Gas (Seaway standard)
Double Paned with Low E Glass & Krypton Gas
Triple Paned with Low E Glass & Argon Gas
Triple Paned with Low E2 Glass & Argon Gas
Triple Paned with Low E2 Glass & Krypton Gas
Seaway Encore Series Windows
The Encore residential series window is made of long lasting, easy maintenance vinyl with strong fusion welded sash and main frame construction. All Encore windows are manufactured with multi-chambered vinyl extrusions, double insulated glass, continuous interlocking rails, structural silicone glazing, step sills, and limit latches.
Styles Available: Picture Window, Double Hung, 2 & 3-Lite Sliders, Casement, Bay & Bow, Hopper, Awning