If spring finds you ready for a change or eager to plan your next home improvement project, replacement windows are a great way to shed light on interior spaces or highlight your home's best assets to would-be buyers. Want to make a room feel more spacious? How about framing that beautiful view? Need ventilation but don't want to sacrifice aesthetics? We hear you.
Whatever style you're into, a fresh set of windows can really dress up your home. And we're specifically thinking about bay and bow windows. Want to learn more? We're going to get into the differences between the two and answer the perennial question, "Are bay windows outdated?"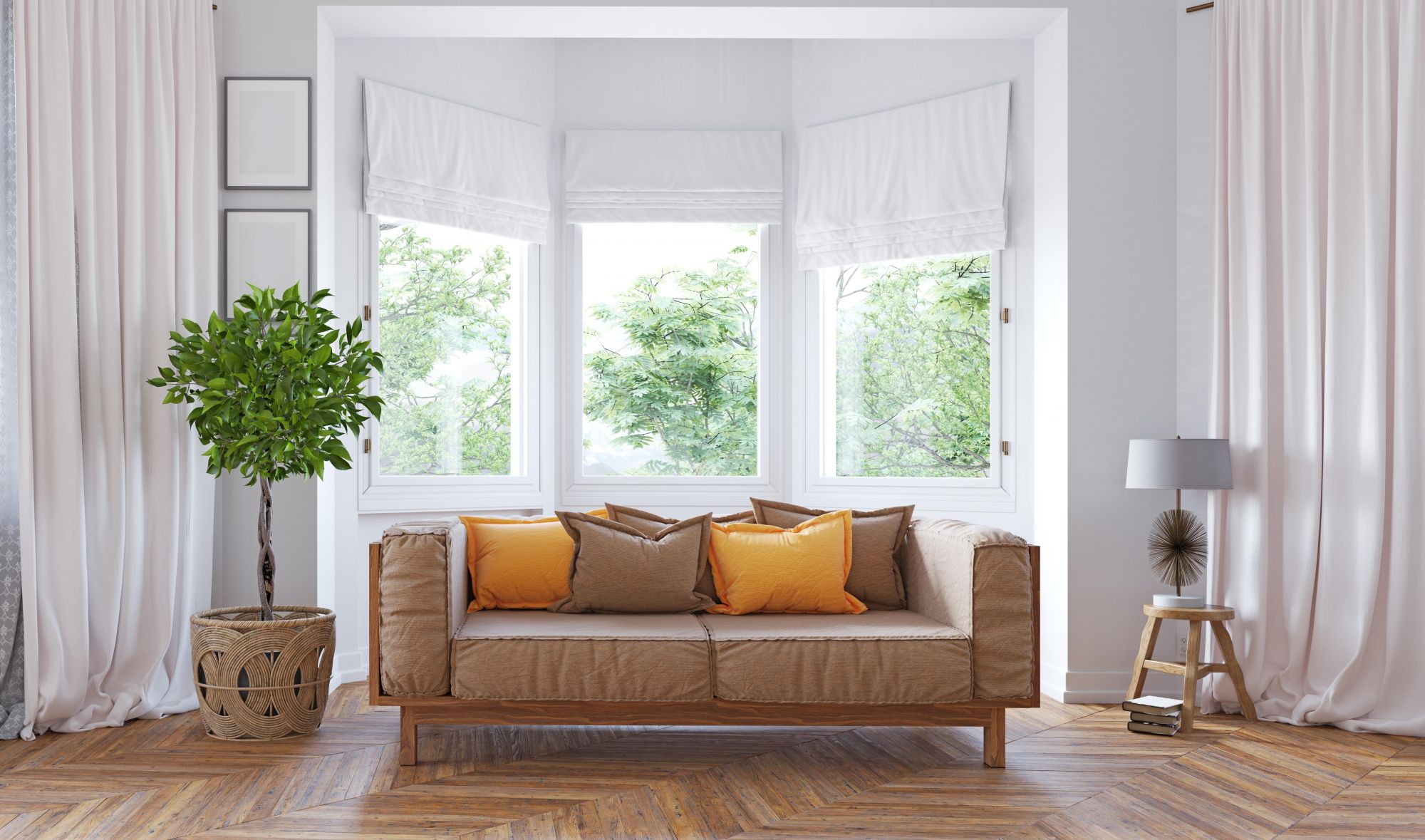 The Differences Between Bow & Bay Windows
As you're researching your window replacement project, you've likely heard of bay and bow windows and how they can boost curb appeal, expand exterior views, and even add to usable interior space. All well and good, but let's start with the basics, like the differences between these two related but distinct window styles.
Check our glossary page for the full definition, but in short, both bow and bay windows fall within the category of projection window–they protrude from the side (or sometimes corner) or your home. They are also both composite, with several pieces creating what we refer to as a singular window. The difference lies in the overall quantity of windows and in how they're arranged.
Bay Windows:
Three windows set within a range of projection angles (anywhere from 30° to 90°) with an angular shape overall

40" or more space required

Include a larger central picture window (inoperable), typically flanked by smaller casement or double-hung windows (both operable)

Room addition that can add optional seating and additional storage

Bay windows can either extend to the ground or be supported from above or below
Bow Windows:
Four, five, or six windows (AKA four-lite, five-lite, or six-lite bow) of the same size, set in a way (typically at 10° angles) that forms a gently arching footprint, like the curve of an archer's bow

80" or more space required

Can comprise picture windows (inoperable) or double hung or casement windows (both operable)

Window seats and benches can be added for seating and storage options

Bow windows can either extend to the ground or be supported from above or below
A major difference between bay and bow windows is their relative size. Bow windows can easily be twice the size of bay windows, and thanks to their unique construction they can add real dimension to your home. Instead of simply projecting out from a flat wall, they can also wrap around corners (think turret), offering an external view that's truly one-of-a-kind. On the other hand, because of their wider angles, bay windows can project further into the exterior.
All differences aside, there are actually plenty of similarities between these two styles of windows. Bay and bow windows are also a feature that many homeowners might consider but never spring for, so if you're planning on selling and need to replace your windows, adding one of these projection styles could even help sell the place. It's one less upgrade for the new owners to worry about.
Types Of Bay Windows (Materials & Design Styles)
As with any home improvement project, there are plenty of options available that allow you to tailor your new windows so that they work well with existing design and color schemes. Wood, fiberglass, and vinyl are the typical materials you'll see when choosing your ideal bay window. They each have their perks, whether it be design flexibility, durability, or easy maintenance.
Bay windows are very versatile. Depending on the materials used, the color you choose, and the angles of the windows themselves, bay windows can work with a wide array of architectural styles. They have a naturally historic look, but with the right combination of factors they can look ultra-modern. It's all in the design and material selection.
Some key things to consider when shopping for bay windows is that they're always easier to build in. If you're planning a new home, an addition, or a renovation of your existing home, that's the easiest time to incorporate a bay or bow window. Retrofitting is certainly an option, it will just take more skill and labor to do it. Since flooring, trim, utilities and structural elements could also be involved, building a bay window into your next remodeling project is the smoothest way to achieve the look you're going for. That said, there is a wide variety of sizes available and it's likely that you could find something that would fit an existing window space without too much trouble.
Modern Bay Window Ideas
If you're looking for contemporary bay window ideas for your modern home, we don't blame you! These sometimes overlooked window options really go far to add character and individuality. Here are just a few ways that bay windows can complement your modern home:
Ample ventilation:

Thanks to their multi-window construction, you can catch more breeze and take advantage of the seasonal shifts to naturally warm or cool your home.

Boost natural light:

Because of bow and bay windows' sheer size, they let in far more natural light which is a natural disinfectant and mood enhancer and makes for a more inviting interior space.

Focal point:

If your home currently doesn't have much visual appeal, a bay or bow window can go far to adding much-needed personality and style both on the interior and exterior.

Personalize your space:

Make an already special or dynamic room that much more memorable with a bay or bow window.

Bring nature in:

A wider external view means that you can catch sight of the

local wildlife you've tried so hard to attract to your window

, enjoy the views that sold you on the location, and generally make the most of each season's beauty.

Additional space:

Who ever needed less space? Bay and bow windows act as an extension of your home, adding extra square footage, seating, and useful storage.
There are countless styling, accessorizing, and utilization options for a bay or bow window. Here are just a few:
Cozy breakfast alcove

Stylish window treatments

Comfy pillows and cushions

Built-in desk, activity, or craft table

Custom shelving

Reading nook or daybed
Bay Windows: Outdated and Expensive or a Good Investment?
Have you heard that bay windows are outdated? Well we'd beg to differ. Bay windows have an undeniable historic flair, but it's really about materials, angles, and colors–you can have the most modern of bay windows that perfectly accents a contemporary home. So while bay windows are perfect for traditional home styles–like a cottage, vintage Victorian, Tudor, Mid-Century Modern, or Craftsman–they are equally fitting for transitional and modern styles, thanks to their sharp angles.
As far as cost goes, bay windows are pricier than traditional double-hung windows. You're looking at more windows, but also the expertise that's needed to install and engineer the space so it's structurally sound. That said, if you're looking to add this style of window to your home, bay windows are definitely more affordable than bow windows, mainly due to their inherent size difference. Speaking of bow windows, they may not be quite as versatile, but with the correct aesthetic and design choices, bow windows can be a great accent for most modern homes.
Are bow and bay windows outdated? We would say that they're only as dated as design choices make them. They are truly versatile window options and can be worked into many different homes for an eye-catching look. Both bay and bow windows are a great investment to add beauty to your home's exterior and interior spaces, increase your home's size, and add to resale value.
Rely on the Home Improvement Specialists
At Fairview Home Improvement, we want to settle the debate once and for all–bay and bow windows are never out of style, so long as they're well-designed and properly installed. If you've always had your heart set on a bay window, and you're planning a remodel, don't worry about trends–follow your heart!
Get in touch with our team to set up a design consultation. We'll measure and custom-order your windows and install them to your specifications, always with an eye on top-notch customer service. If you have questions about replacement window installation, we're here to help–contact us today!