Curb appeal––the general attractiveness of property from the sidewalk––can have a major impact on a prospective buyer when they first lay eyes on your home. Whether you're looking to sell your home or just want it to shine from afar without making big changes, the team at Fairview Home Improvement has some great budget-friendly tips for you.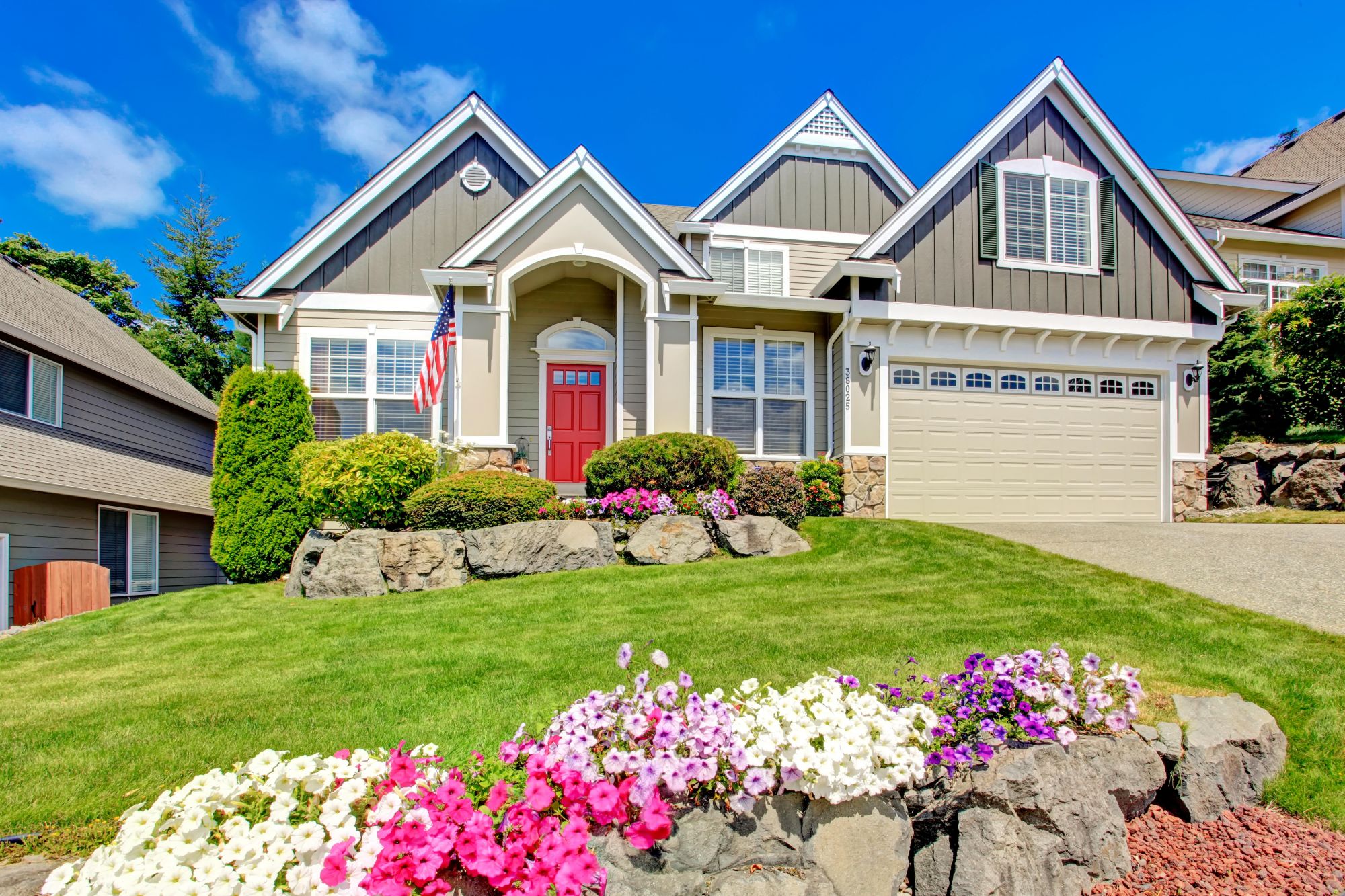 1. Paint Your Front Door
A fresh coat of color can quickly transform the look of your home from the curb. Using a more neutral tone can help to create a cohesive look. Opt for a bold hue to highlight unique architectural features, add a flourish of your personal style, and bring unexpected flair. Use a paint that's rated for outdoor use and exposure to the elements, be sure to use the right tools, and apply at least two coats for a solid, even finish. In just a few hours and with minimal cost, you can create a brand new look.
2. Give Your Porch Some Love
Porches are so much more than just a place to get out of the elements on your way to do other things. The porch can become a welcoming place, a spot that invites folks to sit and linger. You can achieve that look, even from the curbside, by keeping the area clutter-free and focusing on including comfortable furniture, quaint accents, and eye-catching rugs that pull the look together. Low on space? Add a single accent chair with a comfy cushion and side table.
3. Green Up Your Space
Everyone loves a well-designed garden, but not everyone is a skilled gardener. Thankfully there are some easy-to-grow plants that will offer texture, colorful blooms, and a harmonious look if dotted throughout your front garden. Consistent swathes of color generally look best from the curb. If you have limited in-ground planting areas (or none), large containers that coordinate well with your home's style and color scheme can add a touch of drama and draw folks in for a closer look.
Planting trees is another great way to liven up your garden, and in turn, your home. Small ornamental trees might be best if you're planning to sell. Learn about where it's best to plant the variety you're considering. If necessary, small trees can also be planted in large pots for instant impact while remaining portable. For quick visual interest without a big investment, a DIY trellis and annual flowering vines can also make a big difference in the garden.
If you do nothing else, at least take a close look at your lawn and garden beds. Eradicate weeds, prune back unruly plants, and keep edges crisp for a clean look, whether you're an expert gardener or not. Mow on a higher setting for healthier grass and fertilize for the best color. If this sounds like a challenge you don't want to take on, employ a yard maintenance service for a quick fix.
4. Focus On Lighting
You never know when a prospective buyer could be driving by for a first look. Illuminated pathways, trees, and outdoor living spaces can give a clear view of what your property has to offer, any time of day. Well-placed lights add ambiance to any space, but outdoors, they also offer additional safety benefits. Whether you choose wired-in or solar models, landscape lighting and mounted lighting fixtures can help to create the perfect picture from the curb.
5. Accentuate Windows
If you step back to the curb and realize that your home's windows could use a pick-me-up, adding shutters or using an unexpected accent color to repaint trim could be the change you're looking for. Window boxes with abundant color and texture create a beautiful scene and can breathe life back into your windows. If you realize that maybe those windows could use more than a spruce up, window replacement will always update a home and add value while boosting curb appeal.
6. Give Attention to Walkways and Driveways
Well-maintained hardscaping is key to keeping your home's curb appeal high. This could mean regular patching or sealing, with maintenance varying depending on whether you have asphalt or concrete. You could even opt for a dyed surface to add a unique twist. For walkways, brick or stone edging can add a nice touch to plain cement, while also making the path look wider and more inviting. If you're laying a new path or replacing an aging walkway, using natural-looking paving stones and incorporating slow curves can do a lot to bring a sense of ease and comfort to your space. Soften hard lines with lush plantings and for a more temporary solution, use large containers along walkways or a driveway for easy seasonal color.
7. Front Door Replacement
Some front doors either don't use storm doors or have old-fashioned screen doors that end up hiding your entry door. And not every steel entry door is a thing of beauty. A storm door offers many benefits, but you don't want it to block your intricate stained glass, carved wood, or other fine detailing. That's why we'd suggest using a storm door with glass panels and a sturdy frame. Replacing your old storm door or steel front door with a more modern style is one quick change that can make a huge difference from the curb. Additional trim is a good option too.
When considering front door replacement, updated window shutters, and other features or fixtures, keep in mind that using similar hardware creates a cohesive look. That little bit of consistency adds extra polish that can make a difference from the curb.
8. Consider Powerwashing
If all of these suggestions have you overwhelmed, take a step back and look––really look––at the exterior of your home. It's likely that the seasons, elements, and wildlife could have left their marks on your siding, doors, and walkways. So start the journey to a more appealing curbside by stripping back those layers and giving your home a good powerwash. Once the coating of pollen, dust, and mildew are gone, you might not need to do a thing more. Regardless, a clean slate will give you a clear view of what you're working with and where you might want to touch up a finish or redo a feature entirely. And if you don't already own a power washer, it's a great investment, but it's also just a rent or a hire away.
As you work on your home's curb appeal, know that the professionals at Fairview Home Improvement are here to help. Whether you're replacing a roof, refreshing siding, adding new gutters and downspouts, planning a patio enclosure, or are interested in front door replacement, be sure to get in touch with us. Our home repair and renovation experts are happy to help you realize your plans and add that just-right finishing touch. Located in Fairview, Ohio, we serve the Greater Cleveland area––we're looking forward to your call!