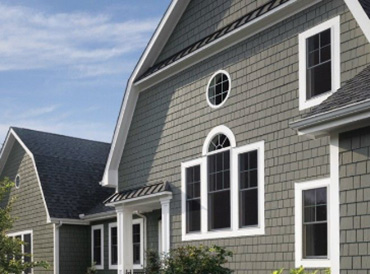 Contact Us for Siding Info
Fairview Home Improvement would love to help with your house siding installation or repair project in the Cleveland, Ohio area. We have multiple siding options from different manufacturers that will help insulate your home from the elements and reduce your heating and cooling costs.
Popular Siding Products
CHARTER OAK® ENERGY ELITE:
IT'S NOT JUST SIDING. IT'S INSULATED SIDING.
Wouldn't it be nice to reduce energy bills as well as maintenance chores? Charter Oak® Energy Elite is an insulated siding system that combines select materials and refined designs with exceptional energy efficiency.
The inside of your Cleveland, Ohio area home will be cooler in summer, warmer in winter and quieter year-round because Charter Oak Energy Elite is manufactured with Fullback®, a precisely contoured insulating foam underlayment that provides all the benefits of our flagship Charter Oak® premium vinyl siding.
CHARTER OAK®:
EXCLUSIVE TRIBEAM™ DESIGN DELIVERS MAXIMUM PERFORMANCE.
Looking for durability that spans the generations? You've come to the right place. Charter Oak® is Alside's flagship siding product, combining authentic wood beauty with unmatched durability, performance and maintenance freedom. Alside's exclusive TriBeam™ Design gives Charter Oak superior rigidity, while a double-thick nail hem enables it to withstand high winds. Charter Oak has been independently tested to resist Category 5 hurricane-force winds.
Mastic Carvedwood
No paint. No stain. No hassles. Carvedwood 44® delivers strength, durability, the beauty of real wood — and endless design options. With 26 colors, five distinct profiles and two attractive finishes — smooth and woodgrain — Carvedwood 44® is the ideal choice in a virtually maintenance-free home exterior.
The Mastic Carvedwood family of products are available in 14 of today's most popular colors, plus 6 deeper, richer colors from our exclusive Architectural Color Collection.
HomeView siding:
HomeView Vinyl Siding is an exterior product of choice offering unprecedented quality, style & performance. The deep cedar wood grain emboss and low luster finish is their standard. Their quality offers peace of mind with its reinforced nail-hems and positive locking system. The enhanced thickness and strength ensures panels remain straight and true. Ensuring resistance to denting, hail damage and scratches. Plus HomeView Vinyl Siding has a limited lifetime warranty that never needs painting!