We all love for our homes to be comfortable and beautiful, but that's typically equally as important as being efficient and utilitarian. Sometimes we might be up for some high-price upgrades that radically change layout, structure, or design. But other times, we might just be looking for a quick, affordable change that shifts our everyday and breathes some fresh air into daily scenes and routines. Here are seven ways to improve your home while still working within a budget. These ideas will help you enjoy your home more today while also adding to the overall value of one of your largest investments.
Focus on Green Spaces
The addition of a shade tree and spruced up landscaping beds can do wonders for the curb appeal of your home. That means that every time you pull in the drive after a hard day, you'll be happy to come home to your own little oasis. Gardening can also help to get you out in the fresh air and sunshine, which is always a good thing. And once you've added more greenery, you can sit back and enjoy watching the birds and wildlife that are now attracted to your property. Once your trees mature, they can make a serious impact on your yearly heating and cooling bills, act as a windbreak against rough weather, and prevent erosion.
If you already have a lovely garden and landscaping is top tier, then it's time to build a dedicated space to enjoy the fruit of your labors. A patio cover, carport, or patio enclosure is just the thing to get more out of your outdoor spaces. Remember to include some subtle exterior lighting to set a mood and encourage lingering outdoors into the evening hours.
Mini Kitchen Redo
Back inside, let's focus on what's arguably the most used and abused room in the home–the kitchen. New appliances are always nice, but sometimes that's just not in the budget. One major switch that can completely change the look of your kitchen is opting for new countertops. Changing from light to dark shades or tile to granite, terrazzo, or custom concrete can make a big statement and help to mix up your everyday. A new lick of paint on cabinet doors and trim and a quick switch out of hardware can radically change the style of a room you spend a lot of time in. Just a few small alterations can modernize a space and make it feel fresh and new. While you're doing this little makeover, pay attention to how you use space in the kitchen and look for ways to streamline design.
Add a Finishing Touch with Molding
Molding literally and from a design perspective caps off a room. It's a signal that you've thought through the design and want to highlight certain aspects or architectural features. Crown molding is a visual cue to look up, which can naturally make a space feel bigger and taller. Molding is an elegant addition and because it's available in countless color, pattern, and size options, you can find that just-right accent for any room in the home.
Wood molding is always popular, and it can be left natural, or you can opt to stain or paint it to coordinate with your overall color scheme. Chair railings and molding added around an entry door or window add a unique flair and give any room a complete feel. Even light switch covers and basic mirrors can benefit from a little molding, giving them a deliberate, purposeful appearance. Like jewelry and other adornments, molding may not always be necessary, but it can certainly be used wisely to add a luxe feel to your home, and is an easy upgrade to make while sticking to your budget.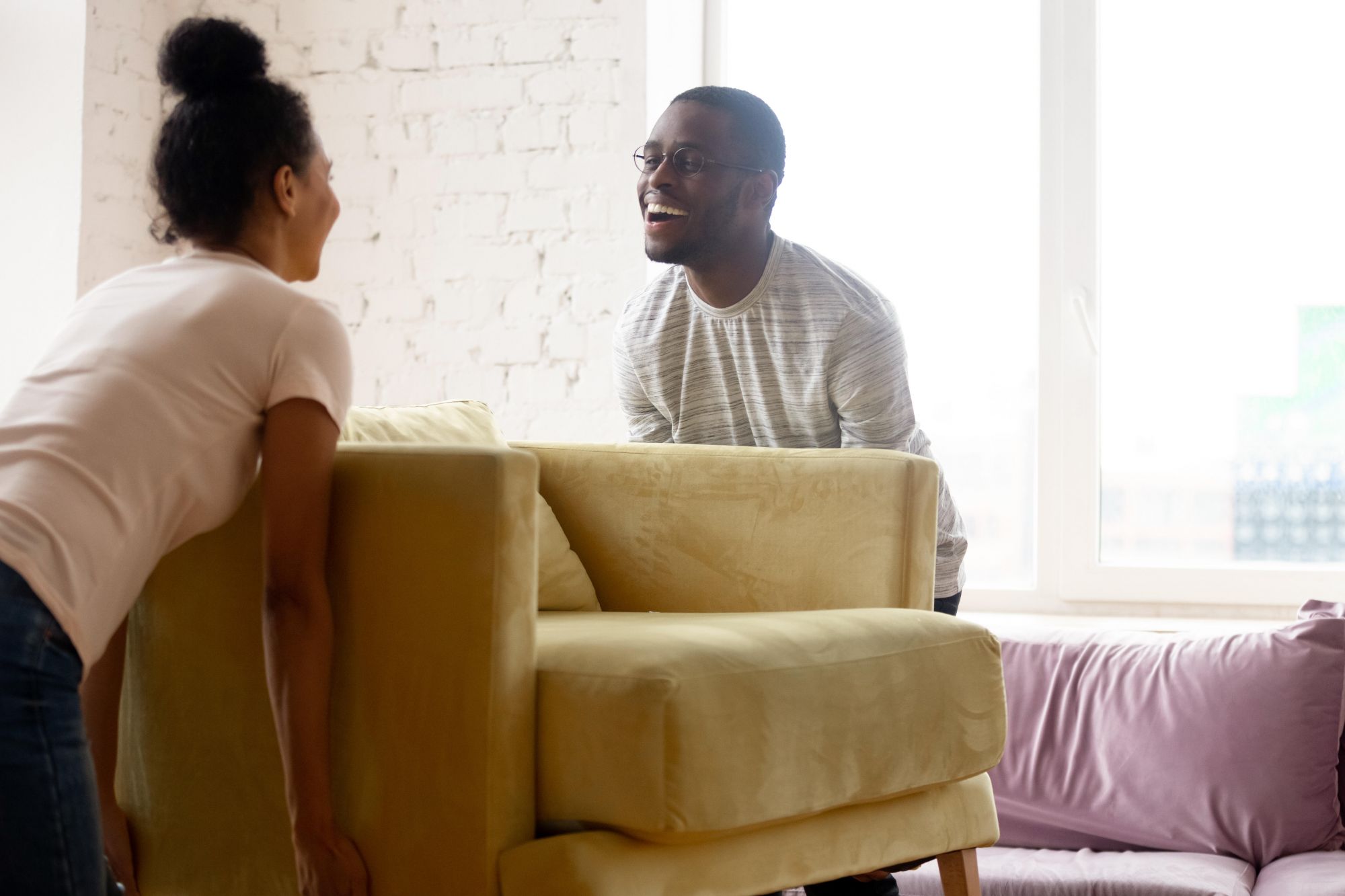 Level Up Your Storage Game
Even though it sounds like a little thing, having a designated spot for everything in your home can really feel luxurious–you can never have too much storage. When you aren't constantly fighting with clutter you can relax and spend more quality time with friends and family or enjoy alone time working on your favorite hobby. Clean spaces with clear surfaces can go far to ease anxiety and tension, but you might think you've already tapped into all the potential storage spots in your home. This is likely not the case. Whether it means literally carving out space within a staircase or between wall studs, or thinking vertically with overhead platform storage in a garage or storeroom, finding those missed opportunities can be satisfying and help you live a more streamlined life.
Start this project by weeding out what you don't like or use, and find a home for everything you can. Once you know what you're working with, you can then set about planning. Choose from ready-made utilitarian drawer and closet organizers, opt for aesthetic appeal, or go with a more custom-built option. Small countertop appliances can be given a dedicated cabinet with pull-out, extendable shelving for the ultimate convenience and ease of use.
Front Door Replacement or Upgrade
Your home's front door gets a lot of use, and sometimes we can be blind to what we see everyday. If your home's entry door features peeling paint, warped vinyl components, fading, cracking, or clouded windows, it could be time to consider entry door installation and a brand new look. Front door replacement and storm door installation can do a lot for the look of your home's exterior, but installing a new entry door can also help to regulate indoor air temperatures and keep your home cooler this summer.
Depending on the material, your entry door might benefit from a fresh coat of paint or stain. Need help choosing the right shade? Check out this article for tips and ideas.
Replacement Windows Let the Light In
Every couple of decades UV light and the elements that come with changing Ohio seasons can make it necessary to change out your home's windows. That's especially true if you're still working with single-hung windows, which are notoriously energy inefficient and unstable in the wild temperature swings we experience every year. Replacement windows make an ideal upgrade to a well-kept home, and breathe new life into its exterior. Choose larger bay or bow windows to let more natural light into your home's interior and make the most of beautiful views. Highlighting what you already have around you can help you to find more enjoyment in everyday things and help you stick to your home improvement budget.
If you aren't in the market for brand new replacement windows, opting instead for window grid inserts or replacement window grids can liven up what you already have. Paired with a coordinating fabric window treatment you can easily create a whole new look for your home. Take the upgrade to the next level with a new coat of paint for outdoor window trim and casings. And think about adding window boxes, whether you opt for window replacement or not. Appropriately sized and planted window boxes can bring just that bit of charm and hominess that you're looking for.
Focus On Energy Efficiency
If you're on a budget, then heating and cooling during the hottest or coldest months of the year is always a concern. So it just makes sense that you'd invest in ways to help your home's HVAC systems work more effectively. Improving insulation is a great way to ensure that cool air stays inside on hot summer days. That could mean paying attention to seals and gaps, whether they be in your home's ductwork or doorways. If you're really dedicated to the cause, opting for blown insulation could make sense for you. Check the U.S. Department of Energy's insulation guide for detailed information and location-specific recommendations.
If your home's old doors and windows are letting too much air through, then front door replacement, storm door installation, or replacement windows could be a prime way to spend your precious resources while also beautifying your home.
Affordable Solutions from Fairview Home Improvement
Summer is prime time for home repair, but if your big plans are hampered by a tight budget, don't worry–there are always ways to upgrade your space without spending a fortune. At Fairview Home Improvement we know how important it is to feel comfortable in your house, and sometimes all it takes is a little tweak here and there to help you see your home in a brand new light. For the times when you need a little professional expertise, call on us for all of your replacement window, front door replacement, patio enclosure, entry door installation and Cleveland window repair needs. We stand behind the quality of the products we recommend and aim to be your go-to for Cleveland house renovation services. We'll help you find ways to make the most of your next home improvement project. Contact us today to learn more and schedule a free consultation!