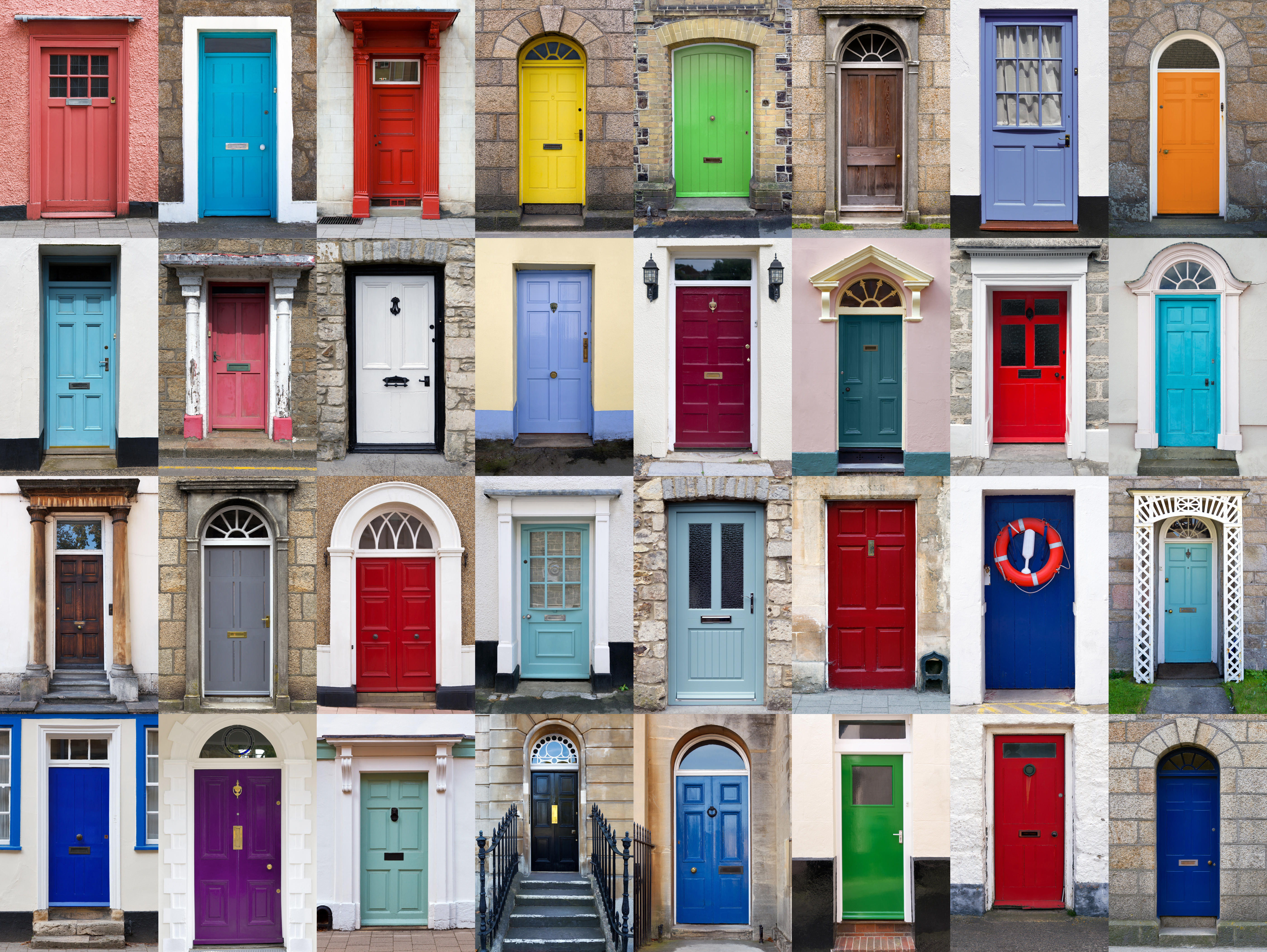 If you're looking to sell or are ready to get started on a much-needed overhaul of your home's exterior, a sometimes underused asset is the first thing you interact with: your front door. Maybe it never occurred to you to change the door's color, or it could be that you're a trend-spotter and you know that your door needs a facelift. Either way, we're here with our best tips and key considerations that factor in when you're deciding what color to paint your entry door.
What Color Door Is Best?
How can you choose an entry door color that fits your home, your neighborhood, and your personal style? You want to strike the right chord and make a good impression, whether that's cheerful and welcoming, formal and classic, or daring and unusual. That could be a hard checklist to meet, but we have some ideas for you. Just know that a new entry door color is probably the fastest way to spruce up your home's exterior and boost curb appeal. There's a lot to learn, so let's get started!
Principles and Concepts that Can Affect Your Paint Choice
Color trends are forever in flux, but some tried-and-true choices will always be in rotation. Inspiration can be drawn from nature, social happenings, historical eras, or your own fun and funky personality. Or you could opt for a more scientific approach and employ principles of color theory, choosing from analogous, monochromatic, complementary, or contrasting hues. No matter your choice, color is both transformational and a powerful design element. Here are some ways that you can harness that power and wield color as a tool when deciding what color works best for your entry door.
Let Nature Inspire
In reality, this could mean anything. Look around you the next time you're outside, and really try to notice the range of shades that leaves, blooms, trees, and the creatures visiting your yard hold within themselves––from subtle to bold, they've got it all.
Whether muted or saturated, green and blue hues will always reference the natural world. Subdued shades allow your home's architecture to speak, and can often unify organically shaped green spaces with the very linear structure of most homes. Traditional styles work well with these colors. As for door colors having meaning, green is always associated with rebirth and renewal, which can be encouraging and calming––the very things you might want to convey as a guest or potential buyer enters your home.
A few more words that color experts use to describe green: balance, stability, grounded, versatile. Sounds like a winner! Likewise, a blue front door can also be calming, and can strike a nice contrast with warmer exteriors. Turquoise, which lies somewhere between the two, is a perennial favorite as well, offering a calm, beachy vibe. Another way to draw inspiration from nature is to echo the predominant hues of your plantings. Choosing a less saturated version of the color mellows it a bit while still creating visual cohesion.
Keep It Simple
Classics are standard for a reason––they always look good and outlast sometimes fleeting trends. For a smart entrance with a subtle nod to a more traditional, minimalist, or modern approach, opt for a standard shade.
White, black, and gray are always favorites, with various shades of black lining up to be the most popular choice for 2022. Timeless, chic, and oh-so-versatile, a black front door works with just about any style of home or design preference. This one dark element can contrast beautifully with natural wood, and any number of other paint colors.
At the same time that it's a classic, subdued choice, a black door can also be a showstopper move, making a big impact on curb appeal. It's really all in the execution and pairings, and classic shades can help to lend an air of refinement to doors that could otherwise be seen as whimsical or imposing. Plenty of color experts agree, saying that if you're in doubt about which color to paint your entry door, stick with black, for both overall cohesion and resale value.
Go Bold
Whether you want to make an immediate impact or follow design principles from another country or culture, loud colors–like red–could be the ideal choice for you. Contrast from bold tones and deep hues can liven up your entrance and convey a spirit of fun and adventure. For example, if you have a predominantly warm-hued planting palette, a red door can most certainly function to tie the two spaces together.
Remember too, that every color comes in countless shades. Cooler or warmer tones will bring out contrast in surrounding colors, and one might suit your fancy more than another. Take time with this and choose a shade that speaks to you and makes you smile. According to color pros, a red door will never go out of style, so if you love the look, why not take that plunge?
If you love the warm shades, but aren't sold on a true red, then terra cotta, brick, or softer, more dusky tones could work well. These shades often convey an effortless style and a laid-back vibe. And if you love intense colors, but aren't a fan of red, the options are truly endless. Go for the drama and choose a color you love. Oftentimes unexpected colors can help to highlight architectural details, especially if you really step outside the box and use various shades of the same color to emphasize those details that could otherwise be lost. Using the same shades on trim can help to ground your selections.
Things to Remember as You Select Your Ideal Front Door Color
The biggest advice here is that the color of your front door shouldn't be an afterthought. If you're overwhelmed with options, remember that classic is always in. A freshly-painted white door is always better than one that's faded or peeling, no matter the shade. And remember that your maintenance routine will vary based on the color you choose to paint your entry door. Darker colors can be more quickly damaged by the sun and require more frequent repainting, while lighter colors can appear dingy or dirty if not regularly cleaned. Desaturated colors will be the easiest to maintain.
Take your home's style, architecture, and other details into account when selecting a front door color. You can use a shade that speaks to its place in history, or you can purposely contrast with a more modern choice. Just be sure to think on it and sit with a color, even getting a small amount to test it out. After a week of living with color swatches you could have a better idea of what you like. And if the color you paint ends up too bright, not bold enough, or otherwise unsatisfactory, it's usually not too much of a burden to start from scratch and repaint.
Another key consideration rests outside of your own opinions or style. Many folks who live within a community that has a homeowners association are limited in their options. So before you invest in a project, definitely check that it won't cause any issues.
Here are a couple of questions to think on: Are colored front doors white on the inside?; and Should the back door color match the front door color? Here's our answer––it's totally up to you! Have fun with it and paint the interior of your front door a shade that works with your interior color or design scheme. You might opt for a darker hue outside, but use a lighter shade inside to maximize light in a dark space. Whatever the case, there's no reason to feel as though you're limited here. And if your back door is primarily seen only by you or your guests, then all bets are off. The only reason you might not want to go too wild with color is if you're planning to resell, since neutral hues act as a blank slate that a home buyer can imagine personalizing to their own taste.
Rely On Your Local Entry Door Experts
Once you've weighed all the factors at play and made your decision, you could need expert advice on entry door installation or front door replacement. If you're considering installing a patio enclosure, you'll have door options there, too. And if you want to protect your new paint job, coordinating storm door installation could be top of mind. No matter what your exterior door needs might be, Fairview Home Improvement is here to help. With top-quality products and skilled technicians at the ready, we can help you create the perfect look for your home. Get in touch with our team to learn more or schedule a consultation.