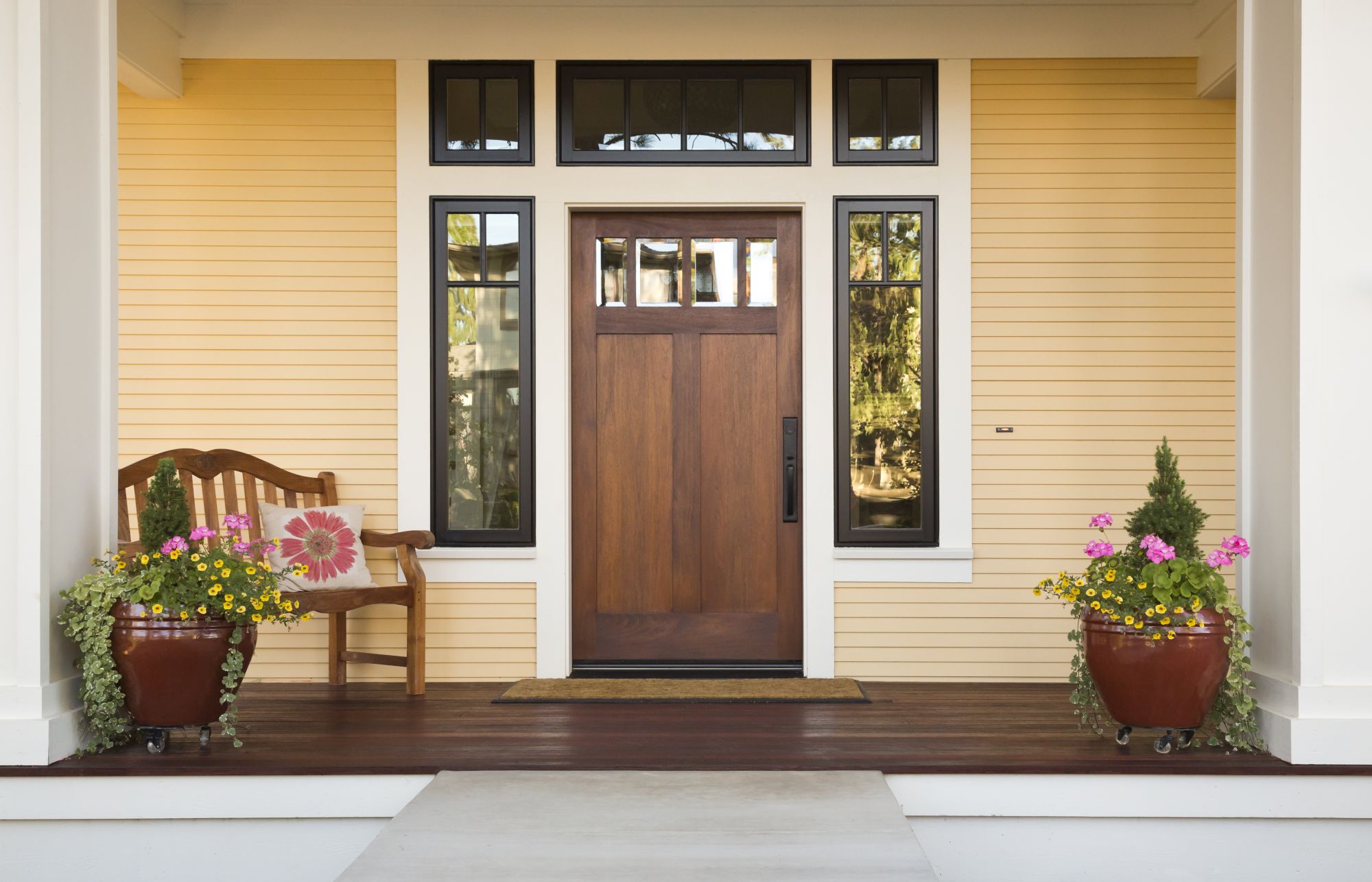 In an ideal world, your front door should last as long as your house stands. But if it's unprotected and exposed to the harsh elements of Northeast Ohio, then your door may only last 30 years or so. While gaskets and weatherstripping can easily be replaced every 5 to 8 years, the door itself could reach a breaking point where it is beyond repair. What are the signs that it's time to replace your front door?
It's difficult to open and/or close.

A door that doesn't open or close easily could be the result of loose hinge screws that need to be tightened. Thankfully, that's a simple fix. But if the door jamb is poorly aligned, the foundation of your home has settled, or your entry door has become warped, then it's often more cost-effective to completely replace the door (and possibly the jamb) rather than try to repair it.

You notice drafts coming from your entry door.

Drafts indicate that your entry door isn't energy-efficient. Perhaps the hot summers and cold winters of Cleveland have caused your door to contract and expand, leaking air as a result. To determine where the air is escaping, hold the flame of a candle or lighter close to the edges of your entry door. If the flame flickers or is being drawn outside, then it's leaking out your air-conditioned or heated air. This makes it difficult for your home to maintain a consistent temperature, ultimately increasing your energy bills.

Your storm door is riddled with large dings, dents, and rust.

A heavily damaged storm door is more than just an eyesore—it's a security risk. Excessive dents and cracks not only impair the weather seal, but they can compromise the structural integrity of your door. A rusty, deteriorating storm door that's on the verge of breaking can attract the unwanted attention of burglars and thieves.

The wood in your entry door is soft, moist, and breaking apart.

Weakened, waterlogged wood invites rot, mold, mildew, and insects to further damage your door. It is no longer secure enough to support the door structure and is not fit to protect your home and family from intruders.
There is moisture buildup between the glass panes of your entry door window.

Doors with double pane glass windows are susceptible to moisture seepage when the seal between the two panes wears down. This promotes the growth of mold and mildew. If your entry door has a wooden core, then mold and mildew that has grown within the glass window are surrounded by organic material and can easily spread throughout the door. So if your entry door has fog or frost between the glass window panes, then it's time to replace it.

Your entry door provides little to no soundproofing from outside noise.

It's important that your entry door blocks or at least significantly reduces outdoor noise, especially if you live on a busy street or in a high-traffic area. A door that lacks soundproofing may need to be replaced with a newer model that is constructed with better insulating materials.

Replacing an old or damaged front door can significantly increase your home's curb appeal and long-term value.

Your front door is a key focal point and can make a significant impression on visitors and potential home buyers. Installing an attractive, energy-efficient door adds character and value to your home. According to Remodeling magazine's "Cost vs. Value Report," entry door replacement is consistently ranked as one of the most valuable home improvements that yields a high return on investment. In fact, studies have shown that a new door can increase the perceived value of your home by nearly $19,000!
WHY CHOOSE FAIRVIEW HOME IMPROVEMENT TO REPLACE YOUR FRONT DOOR?
A new front door does much more than simply enhance the character of your home. It shields your home from the elements, helps maintain a comfortable indoor climate, and protects your home from intruders. Fairview Home Improvement installs premium quality exterior entry doors that have been masterfully designed by Polaris®. Their fiberglass and steel entry doors are constructed with waterproof adhesives, rot-resistant wooden frames, and a steel reinforcing strike plate for additional security. ProVia® heavy-duty aluminum storm doors are 20% thicker than the industry standard and are available with custom energy-efficient glass options.

Our experts can help you choose a replacement front door that fits the architectural style of your home without sacrificing functionality or energy-efficiency. You can trust that our experienced team will install your new door with the utmost skill and care. Contact us today for more information!