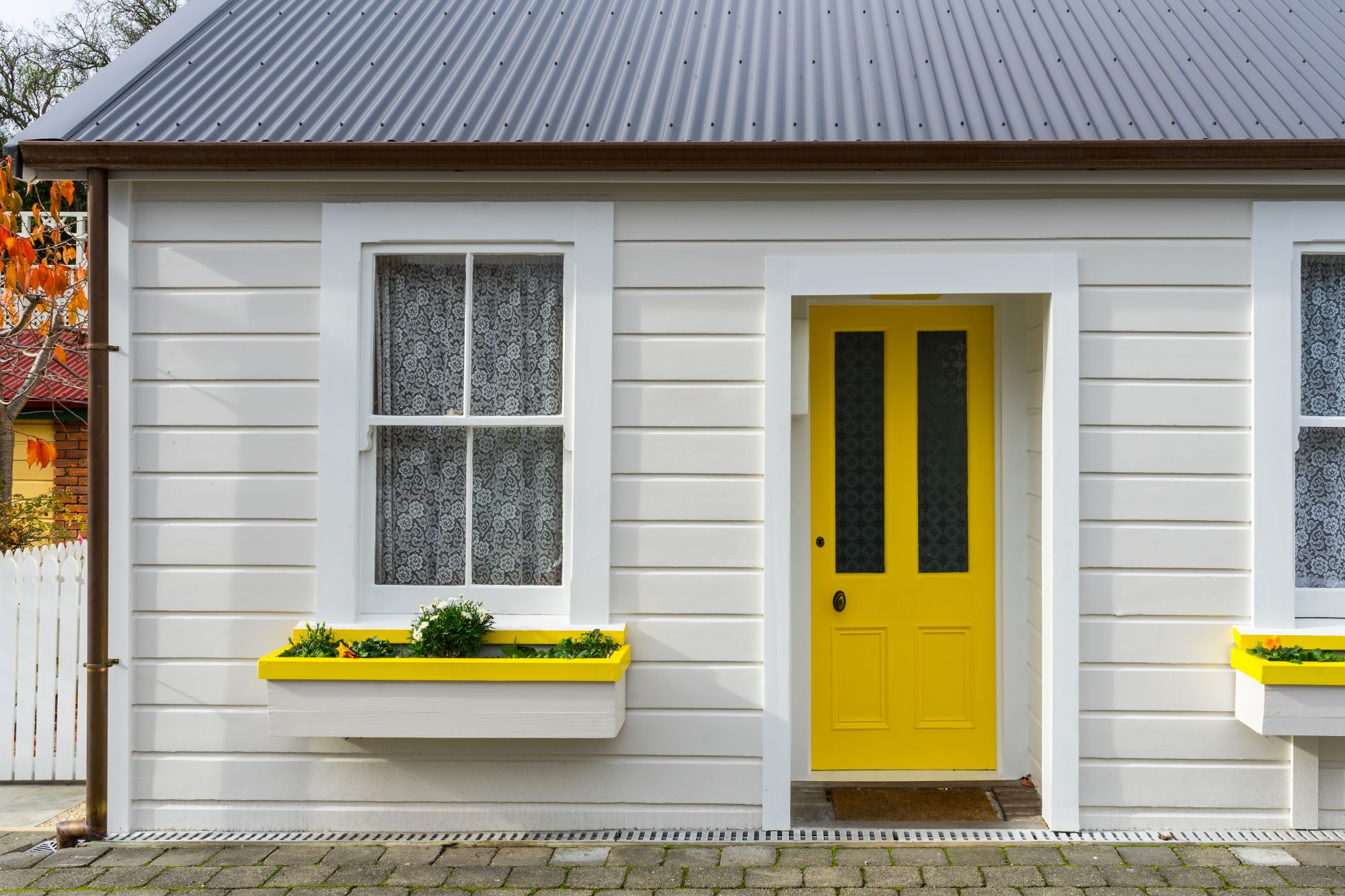 Fall is a time when the flowers are finished and your house may need a little extra something to spruce up the curb appeal. Painting your front door is an afternoon's worth of DIY work that can yield big results from the street. A new door color can make your house seem fresh and up to date.
Choosing a Color
Classic front door colors are classic for a reason—they just work. Black, brown, white, red, and blue all have the potential to look fantastic on a front door. There are also other options that are more whimsical or modern. Using a pop of bright color can be a fun way to change up the feel of things. Try a warm color like gold or rusty orange with a cooler or dark colored house. For a light or a warm colored house try a muted, deep color like olive or teal.
Tape some swatches to the door and make sure to look at them at different times of day to see how the light changes them so you'll be happy with the color all day!
Choosing Paint
A front door is often exposed to the harshest of elements. Choosing a paint is important so that you won't need to repaint every year. Start with an exterior paint, which is designed to be durable. Semigloss or glossy paint are the preferred paints as they are easy to clean and tend to resist chipping more than a flat paint.
Priming the door is also an important part of the process. You may choose a paint-and-primer-in-one or choose to buy a primer separately.
Choosing an Approach
There are two approaches to painting a front door. The door can be painted while still hanging, or you can take it off the hinges and paint it on sawhorses. Painting it on the hinges requires making sure it stays open for a bit and ensuring people don't bump into it for a few hours. Taking the door off makes it easier to avoid bumps, but may require putting a board in the empty door frame for a couple hours to keep your house from losing all its heat.
Painting the Door
Doors have several tricky parts to paint that can be navigated with a bit of preparation. Remove any hardware, like handles and hinges, that is simple to remove. For hardware like windows, use painter's tape to tightly seal off those areas.
Sanding the door, then wiping it down will remove any dust or debris that would interfere with the paint sticking to the door. This makes it ready to prime if you choose to use primer and paint. If the primer doesn't go on smoothly, simply sand it a little once it is dry to smooth it out.
Then your door is ready for paint! If there are detailed areas of the door, paint those first with a brush. Then roll the flat, large surfaces. If you like a brushed look, do the second coat with a brush. Allow it to dry thoroughly before closing it or hanging it back up.
Now that the front door feels fresh and new, you may be in the mood to start some larger projects before winter comes. Maybe your siding could use a refresh, or your windows could be updated to keep your home warm when the cold comes. Get in touch with Fairview Home Improvement to help with the big things so you can enjoy the little things, and your home can be up to date and ready for winter!