You likely aren't thinking about it, but every year, day in and out, siding is doing a great job of protecting your home's interior from the wind, snow, rain and hail that seasonal shifts bring. During summer, it stands up to UV rays, and in Northeast Ohio, siding has to put up with wild fluctuations in temperature. That said, it looks pretty good for its age. But you can take a few simple steps to ensure that your home's siding stays looking great and lasts for years to come. When you spend the time and put in the effort to maintain your home's siding, you'll automatically boost curb appeal and add value to your biggest investment.
First Step: Inspect
Before you make any moves, spend some time walking around your home and do a thorough inspection. Whether you have traditional vinyl siding, scalloped siding, shake style siding, vinyl capping, or more modern vertical siding options, you'll want to pay attention to the same things:
Check

downspouts and gutters

for any clogs or leaks that can compromise your siding's ability to keep the elements out

Keep an eye out for issues like buckling, cracking, discoloration, holes, melting, mildew, mold, rust, scratches, brittle areas and warping

Look for discoloration that doesn't seem to be due to normal UV exposure, dust and dirt, or mildew–it could be a sign of more serious damage

Don't forget to check interior walls too–the exterior may look OK, but you could notice mold, cracking, or water stains on interior perimeter walls
Once or twice per year, and definitely after any major storms or weather events, you'll want to do a walkaround to ensure that everything is safe and sound. Line up this task with other annual chores to be sure you don't miss it. It's vital that you take this step before starting to clean or spray water anywhere because if there does happen to be any damage, you want to address it and make repairs before you tackle any cleaning.
Second Step: Clear
Once you've noted areas that may need to be addressed, or found that everything is in tip-top shape, you'll want to take any necessary preventive steps. If you have landscaping close to the home, now is the time to be sure that there is a wide margin of space between any shrubs or other vegetation and the siding itself. Trees are another concern, as a branch that's too close to the home can be whipped around in a storm and end up causing damage. Excessive shade caused by overhanging limbs can also lead to a buildup of moisture, moss, mold, or mildew.
A word of caution: keep grills, smokers, pizza ovens and any other outdoor cooking appliance far away (at least 10 feet) from vinyl siding. High heat can melt siding. It may be a little more inconvenient to step out into the weather to cook dinner, but it isn't worth the risk to have intense heat so close to the home. Once the siding is cleared, it's time to get busy.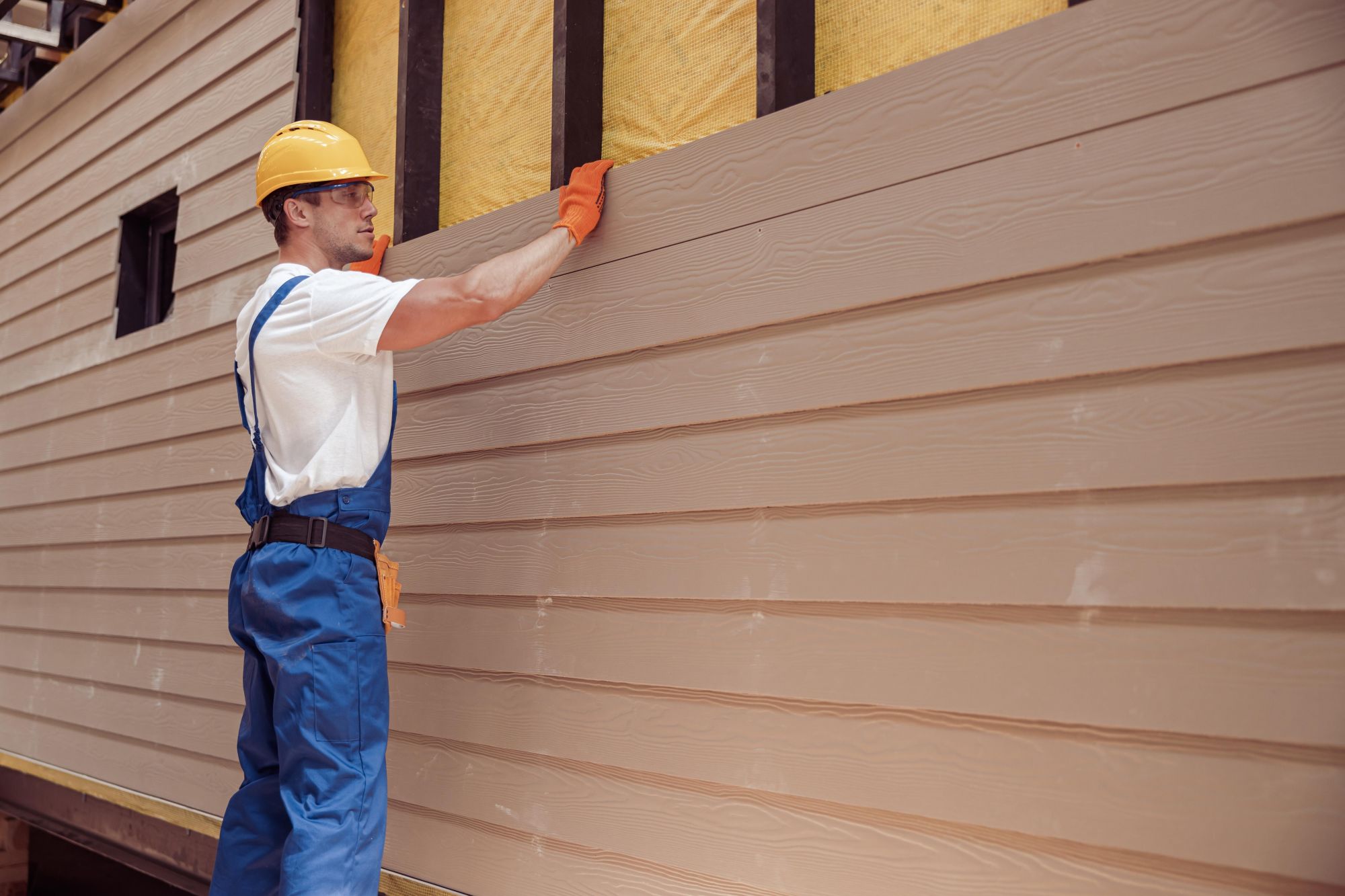 Third Step: Repair/Replace
To prevent further damage, now is the time to make any needed repairs, before you introduce pressurized water. Small nicks or dents can easily be repaired by most homeowners. If you're planning to paint your siding, that's the easiest way to go. If you aren't going to repaint, then you can bring in a pro to replace a panel of siding. Loose panels can also be easily resecured.
At Fairview Home Improvement we install Charter Oak® Energy Elite insulated siding by Alside®, Mastic Carvedwood•44® products by Ply Gem® Siding, and HomeView™ Vinyl Siding by Polaris®. Choose from an array of colors and textures that all offer unprecedented quality, style, and performance.
Fourth Step: Clean
At this point you need to be absolutely sure that there aren't any detectable cracks, holes, or weak points, so that you don't make a minor matter worse when you add water. Inspections done and vegetation cleared, it's time to remove any built up grime, dust, bird droppings, and other typical outdoor deposits.
Opinions vary on whether you just need an average garden hose, or if a pressure washer is best. If your home's siding is on the older side, or if the siding manufacturer explicitly states that power washing is not recommended, we'd just opt for a soft-bristle brush, a soft cloth, a gentle surfactant and a hose. Either way, be careful to ensure that water is always flowing down, not pointed up, where it could potentially get under a vinyl panel and into insulation. This is especially true if you have scalloped siding, shake style siding, vinyl capping, or vertical siding options.
Working on the shady side of the home, gently wash from top to bottom in vertical strips, rinsing the siding and your brush as you go. You'll want to (safely!) be on a ladder as you do this. If there is a particularly problematic stain, pretreat and try again, but don't get too aggressive–check with the manufacturer for specific instructions on how to remove a stubborn discoloration. Once the wash water is dirty, change it, and then keep going until you're finished. With a thorough but gentle cleaning, your home's siding should look good as new. If any areas could use some further sprucing, it's time for the next step.
Optional Step: Paint
Once vinyl siding is properly cleaned and free of debris, you can freshen up the finish with a touch of paint. A good primer and enough high-quality, outdoor-rated acrylic paint for two coats is what you'll need to tackle this job. If you aren't up to the task, or you're worried about how it will look, you can always call up a professional vinyl siding installer and get a quote for replacement. Depending on the current state of the siding, paint may end up flaking or wearing away in a short time, and it could be more worth your while to invest in new siding.
On its own, vinyl siding is a moisture resistant, tough-as-nails barrier to keep your home's interior protected from the elements. That said, life happens, and sometimes its strength is compromised. Regular inspections and cleaning can ensure that you keep minor issues from becoming major problems and keep it looking great for as long as possible.
Call On the Home Improvement Specialists
Sometimes all it takes is an open afternoon and a handy homeowner to tackle a task that can drastically improve the beauty and longevity of your property. In the case of old, dingy siding, that could mean a weekend spent inspecting, cleaning, and painting. But for those harder jobs that may require a repair or replacement panel, for tricky heights that could compromise your safety, or for homeowners who simply don't have the time in their schedule to take on one more project, the professional team at Fairview Home Improvement is here to help. Our experts have the tools, products, and know-how to quickly and efficiently take care of your siding needs.
Give us a call to learn more about our full range of services, to set up an appointment, or to receive your free custom quote!