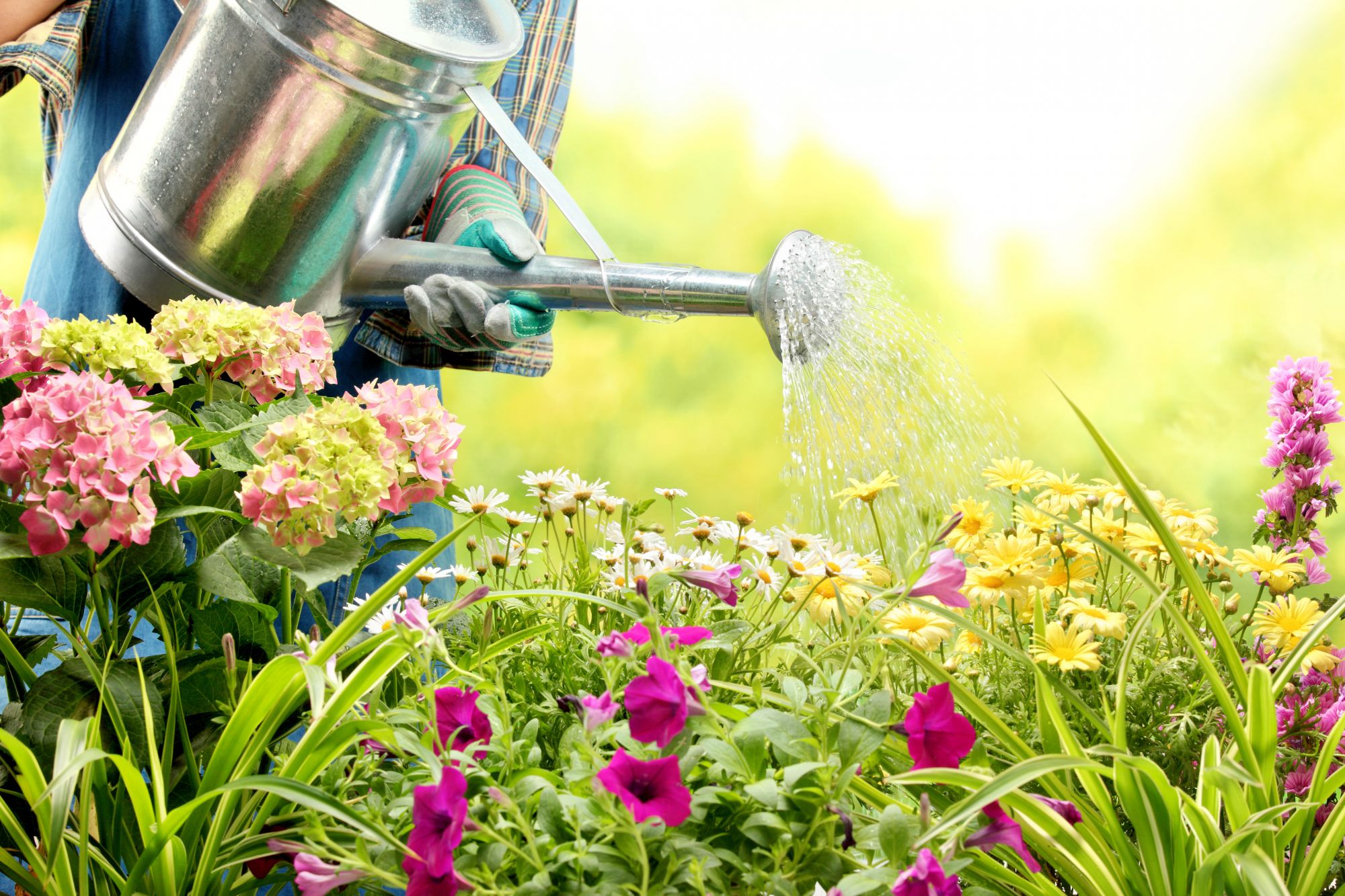 Now that the weather has warmed up and interior spring cleaning is underway, we're all paying more attention to our homes' exteriors. The moderate temperatures of late spring and early summer are ideal to tackle maintenance and repair tasks, before intense heat and humidity take over. Now is the time to get working so you can relax once the heat really kicks in.
Regardless of the type of home you own, here are some top tasks and home improvement ideas to be sure you include on your seasonal home maintenance checklist.
Interior Home Maintenance
After a long, cold winter spent indoors, you probably have a few tasks that you're itching to get done. Even if you're not all that eager, taking care of these few jobs will get your home ready to take on summer.
1. Give Windows Some Attention
Switch out window treatments for something that can help to block strong UV rays, keep excess heat out of your home, and possibly even cut down on energy consumption. Clean the interior portion of windows, stool and all. If you're noticing that seals are compromised or there are signs of leakage, it could be time to think about replacement windows.
2.
Test Alarms
The seasonal shift and spring cleaning are good reminders to double check all of the smoke and carbon monoxide alarms in your home. It's also a good idea to switch out old batteries for a new set, even in wired-in models that have a battery backup. Once that's done, give the test button a quick push, and know that you're protected for another year. People are endangered and worse by carbon monoxide and house fires every year, so having alarms up to snuff is a must.
3. Check Vents
All around your home, there are vents hard at work, carrying away unwanted moisture, odor, dust, and debris. Over the course of months, they can experience buildup that can lead to excessive operational noise and could even become a fire hazard. So from bathroom fans to cooking exhaust fans and dryer vents––they all could use a thorough seasonal scrub down. This is true for your HVAC vents and ducts as well. If you don't feel comfortable handling this, it's always a good idea to call in a professional and include it in your annual inspection or tuneup, before the heat sets in.
Outdoor Maintenance Ideas
Harsh winter weather makes it difficult to get outside and work on your home's exterior. But so does the intense heat and humidity of summer. Late spring and early summer are the ideal times to get some serious maintenance done without breaking (too much) of a sweat.
4. Inspect Roof
Over time, or in the case of extreme wind or other weather events, roofing materials can be compromised. Taking a few moments to inspect and address any missing shingles or worn areas can go far to prevent more costly interior water damage. Your inspection should involve checking the flashing, eaves, soffits, and removing any debris that's collected on the roof itself. If it's looking like it will be time for roof repair or replacement sometime soon, get in touch with the experts at Fairview Home Improvement.
5. Deck and Patio Care
Open decks and patios can take a beating over winter, and that will only get worse during summer. From excessive moisture, freeze-thaw cycles, and damaging UV rays, your deck or patio sees it all. So take a close look and see if mold or algae is growing on surfaces. Check for faded stain and areas where water no longer beads on the surface. Take advantage of the moderate temperatures of early summer to restain wooden surfaces, giving the area a good scrub first, and even pulling out the pressure washer if need be. While you're taking a closer look, pinpoint any weak areas or deteriorating wood, mortar, bricks, or other materials and replace those first. Consider transforming your deck or patio with a custom built patio enclosure, so you can enjoy the space for more months out of the year.
6. Begin Landscaping and Lawn Work
The less intense temperatures of late spring and early summer are ideal for aeration, overseeding, dethatching, or reseeding a rough-looking lawn. An overgrown or weedy lawn can detract from all the rest of the work you've done to maintain your property, so it's important to get things under control. Some folks choose to fertilize––just be sure to follow package directions and don't overapply any product, whether organic or synthetic.
Once spring-flowering shrubs and plants have bloomed, cut them back to maintain shape and a measure of tidiness, and to improve the overall health of your garden. Give any in-ground sprinkler systems a thorough once-over and test them to be sure that hard water deposits and soil aren't creating blockages, or tree roots or impact haven't caused breaks or leaks in the system. You'll want to be sure that's handled now, while rain is still plentiful, and before the heat of summer is in full swing.
7. Survey Siding and Paint Conditions
Your home's exterior is your best defense against insect and fungal intruders. It can also help to reduce energy costs if it's well-insulated against winter cold and summer heat. If your house is painted, areas where paint is peeling could indicate age, or even excessive moisture, algae, or mildew. Taking time to repair small areas means that problems won't spread and lead to full-blown replacement as quickly. Power-washing siding makes your home shine, but if your home's exterior isn't holding up so well, it could be time for siding replacement.
8. Clear Out Gutters
We often think of falling autumn leaves when we talk about cleaning gutters, but in reality, it's a semi-annual job. If you live in an area with lots of trees, they could be shedding leaves, pollen, blooms, seeds, and nut debris all year long. And if there is anything in the way of free drainage in your gutters, water damage to your roof or your home's structure isn't far away. Pooling or standing water is also the ideal breeding ground for mosquitoes. In general, untidy gutters can provide cover and shelter for insects and pests––there are plenty of reasons to keep them clean and clear. If gutters or downspouts are pulling away from the home or are leaking or beginning to deteriorate, it could be time to think about gutter repair or replacement.
9. Address Windows and Doors
Cleaning exterior window panes, screens, and sills gives you a fresh view of the natural landscape. Scrubbing down doors and checking for chipped or peeling finishes, damage, or broken hardware is another opportunity to revamp your home's exterior. Check all screens for holes and repair them, and be sure to check seals around doors and windows and apply weatherstripping anywhere it's needed. Quiet noisy doors and ease stiff hinges with a lubricant and apply caulk where necessary. If doors have seen better days, consider entry door installation or storm door installation to protect your interior space from the harsh outdoor elements. And if you'd like to quickly update your home's exterior and boost curb appeal, consider front door replacement.
10. Check Structural Elements
The ebb and flow of seasons and the temperature shifts can wreak havoc on fundamental exterior structures, like your home's foundation, chimney, and any other concrete or masonry elements. If you're noticing cracks or chips or worsening issues, now is the time to fix them.
Simplify Your Seasonal Home Maintenance Checklist with Fairview Home Improvement
Owning a home brings plenty of responsibility, and seasonal work can quickly become overwhelming. If you're finding yourself with a long to-do list after inspecting your home this spring or summer, reach out to the specialists at Fairview Home Improvement. From gutters and downspouts to entry doors and patio enclosures, we get your home looking great from every angle. If you're looking to sell, then curb appeal is everything. Get in touch to learn more about our services and to set up a consultation.
Fairview Home Improvement is proud to be your family-owned and -operated Cleveland, Ohio area go-to for home improvement ideas.